What Is the Difference Between Play-doh and Clay?
Modeling is an excellent activity for both kids and adults. You can either mold Play-doh or Clay to create beautiful creations. However, is Play-doh different from Clay?
The significant difference between Play-doh and Clay is that Play-doh is water-based while Clay is oil-based. Despite being used for modeling, both materials have different ages of suitability. Clay holds its shape longer, while Play-doh is best for temporary creations.
[amazon box="B00JM5GW10″]
I will share the different characteristics of these modeling materials. You will also understand why each material is suitable for different age groups and purposes.
Can I Use Play-doh as Clay?
Both play-doh and Clay are used for modeling to create beautiful pieces.
Preschools always have Clay or play-doh and have gone to the extent of including them in children's art activities. I will explain why play-doh is a good substitute for Clay.
Play-doh is a malleable dough made of flour, water, and salt. It is soft and comes in many colors. You can mold this dough into whatever creation you want and let it air-dry.
Play-doh is great for younger kids, around two years old. It is perfect for little kids because it is very soft and easier to clean up when it dries out. However, Play-doh tends to get all over the carpet and the child's hair.
Play-doh cracks as it dries and hardens. It is, therefore, best for temporary designs that you will destroy after building. You can also use play-doh with other accessories and toys to add to the fun.
Play-doh tends to dry out, crack, and crumble. Therefore, your creations will lose their beauty over time. The best method of keeping a memory of your beautiful designs is to photograph them.
Clay is non-toxic and oil-based. It keeps its form better and is thus better suited for older kids. Though Clay is firmer, it usually softens after a bit of use.
[amazon box="B07NSFMP5N"]
Unlike play-doh, Clay does not crumble or dry out. Your beautiful creations will therefore last longer without damage. Modeling Clay is also available in a variety of colors.
Since Clay is oil-based, it will leave an oily residue on surfaces that it touches. Therefore, I recommend you carefully choose a suitable surface to work on and be cautious with wood surfaces. However, soap and water will clean up the residue.
This said you could never go wrong with play-doh. I recommend play-doh for little children because it is incredibly soft and easy to clean up. However, as your kid grows older, I suggest upgrading to Clay, as Clay is more fun to work with.
Can You Sculpt With Play-doh?
Play-dough is not the best medium for sculpting because it dries out and crumbles after some time. However, you can use Play-doh to sculpt temporary pieces, and you don't intend to keep them for long.
Although Play-doh sculptures will not last forever, the material is soft and best for younger kids. Kids around two years can develop their motor skills by using play-doh to mold different shapes.
If you use play-doh to sculpt, it would be best to model different pieces and join them together. For example, if you are carving a human, sculpt the head, arms, and body separately, then join them to form your human body.
Play-doh was created for children to play with and not to be fired in a kiln. However, you can gently bake it in an oven to make it harder.
If you fire Play-doh in a kiln at high temperatures, your will probably ruin, crack, or burn your beautiful creation.
Instead, you should use very low heat in an oven to avoid damaging your play-doh sculpture. This technique will allow you to preserve some of your kid's best play-doh creations.
When baking Play-doh, ensure you use low heat, about 200 degrees Fahrenheit. The size and thickness of your play-doh sculpture will determine how long you will bake it.
Let it bake for approximately 30 minutes but check every five to ten minutes to ensure no damage.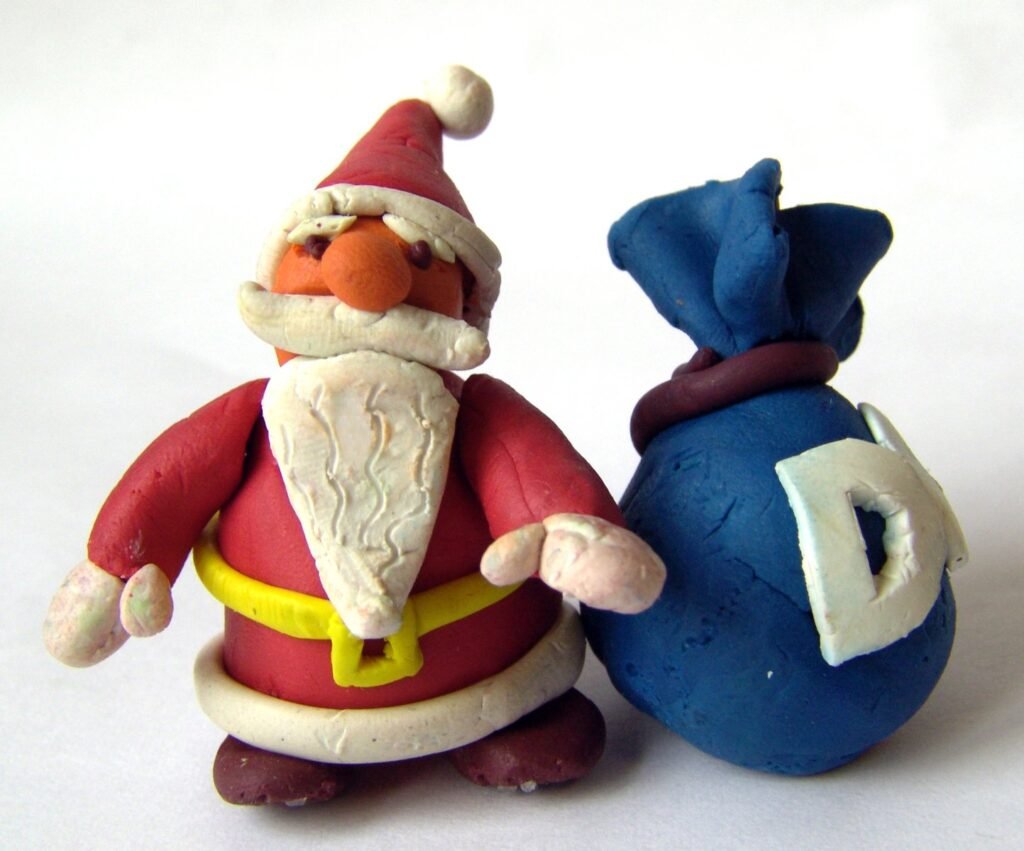 Which Is Better, Plasticine or Play-doh?
Plasticine is an oil-based modeling material made from petroleum jelly and gypsum powder. On the other hand, Play-doh is water-based, made from water, flour, and salt.
[amazon box="B09W2LM2LN"]
Plasticine does not dry out and will therefore hold its shape better. Play-doh cracks when it dries, thus crumbling and losing its initial form. Play-doh is best for temporary creations.
Plasticine is a non-setting and non-drying modeling material. It is malleable enough to make various models but also firm enough to retain shape indefinitely. These properties make plasticine the best modeling material for animation.
Play-doh is exceptionally soft and is therefore suitable for young children with tender hands. However, plasticine is not soft and is ideal for older children.
Plasticine takes some time for it to become malleable. However, it is better for detailed modeling than play-doh. Hence, plasticine is a more professional material than Play-doh.
Plasticine is not air-dried and should not be fired. Plasticine melts when exposed to heat. Play-doh can be baked in an oven over low heat so that it retains its shape better.
Animation companies use plasticine to model their characters because it allows them to incorporate more details. Plasticine is also firm, and it retains shape. You can also combine plasticine with some wireframes to maintain the shape longer.
Clay, plasticine, and play-doh are suitable materials for modeling and sculpting. However, it is essential to know the suitability of each of these materials.
I recommend Play-doh for younger kids because of its softness. Clay and plasticine are ideal for older kids and less temporary sculpting and modeling.