Do you need some Clay Earring ideas?
Imagine that it was the perfect summer evening, but too hot for you to wear much clothing or makeup. How can you leave a good impression on your girlfriends? Try clay earrings if you're looking for "statement jewelry"! It doesn't matter whether you like to wear them or give them as gifts, they're a great choice! 
A pair of clay earrings are a good choice if you like to be unique, wear a piece of bold statement jewelry, and make a positive impression on your family and friends. When you combine different details and colors, the possibilities for combining them are endless! You can make them from different types of polymer clay. 
We compiled this blog post to help you learn more about clay jewelry, pick a present for your loved ones, and learn how to make it yourself!  
How Do You Make Cute Clay Earrings?
What's the best way to make clay earrings? This may seem like a difficult job, but it isn't! When you buy a few earrings, it can become quite expensive, especially if you are purchasing a lot of jewelry. Using clay at home is also possible since you can use kitchen utensils and items, such as glasses, bottles, rolling pins, cutting molds, and an oven for baking clay earrings.  
If you like it, you can make a couple of earrings for every possible combination that is present in your wardrobe closet! 
Inspiration can be found in everyday life, plant and leaf motives, and symbols that you adore, such as: 
dots
pasta (fusilli, macaroni…)
flowers like Daisy 
Love motives 
Boho or minimalistic style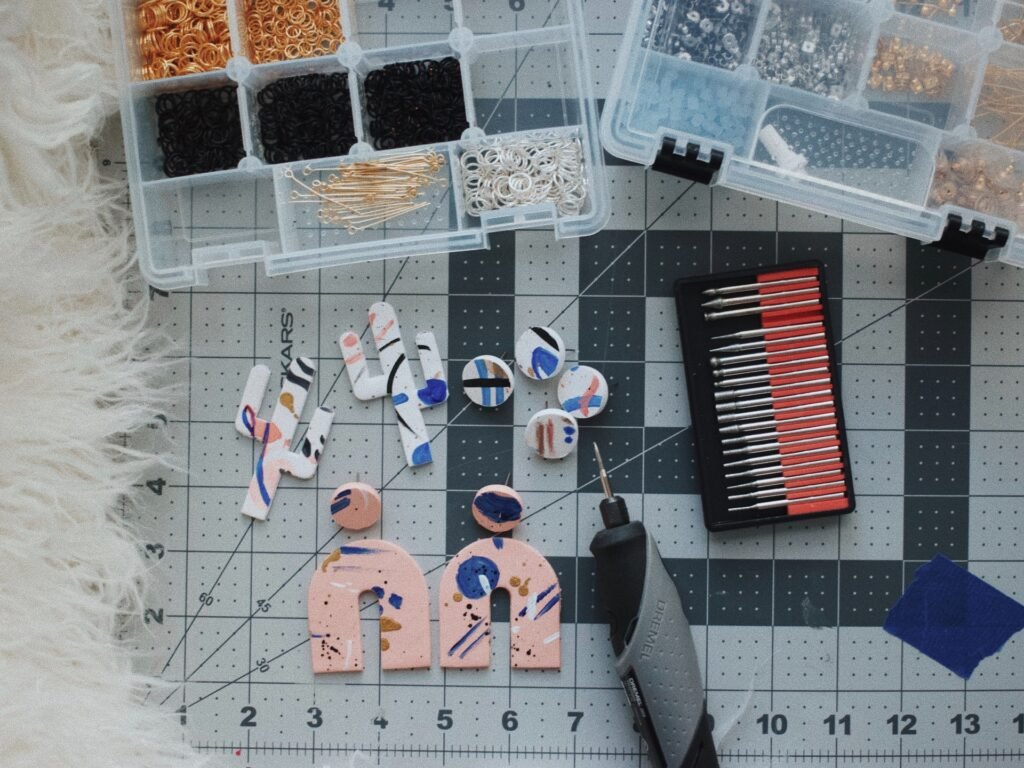 In case you want to find out more about the inspiration for earrings, check out social networks like Pinterest or shops of creative people who sell their clay creations. 
What Kind Of Clay Do You Use For Earrings?
Polymer clay is a modeling mass made of polymer (polyvinyl chloride) and it is very easy to work with since it has a structure similar to plasticine. Because of its many advantages, polymer clay is becoming increasingly popular in the handicraft industry, since the possibilities are endless. Besides being soft in your hands, it mixes well with different colors, and you can bake it in the oven if you want. Your earrings will become hard and durable by baking them at 110 to 130C, or 223 to 266F depending on the brand of polymer clay you bought.
There are even several techniques for making polymer clay jewelry, which can be used for making earrings. Using each of the methods could result in a beautiful piece of jewelry that will attract attention when you wear it. The ways were developed over many years of experience.
Some of the ways to make polymer clay jewelry are:
Mixing colors, since you will not get the most precise desired shade, you have to make it for yourself
Skinner blend or ombre technique in working with polymer clay: you may want to achieve a "wow effect" by gradually changing colors from lighter to darker or vice versa. You can find several tutorials explaining the principle of color mixing step by step by searching this keyword. The surface of polymer clay earrings is usually small, so you should only expect a minor change in appearance, as it is possible that this does not matter.
Rolls (cane) – this great technique of making jewelry from polymer clay can push the boundaries of your creativity. Clay rollers stacked in different patterns produce optical illusions and kaleidoscopes when a cross-section and earrings are made from them. You can find more examples in the video that can be found at the link here. 
With mica shift, you can create the illusion of texture on polymer clay, even though it is flat. This technique lets you make "ghost images" in metallic or pearl clay. Well-executed mica shift effect can fool the eye and intrigues viewers since it looks like the design is raised or pressed into the surface.
Imitation of other materials such as precious stones or wood is another technique you can give to the drama of your polymer clay jewelry. In our text, we said that this type of material allows for a vast range of possibilities and that the only limit is our imagination, how we imagine our next piece of jewelry, and our motivation to work with this material. You can apply varnish to it to make it look like a precious stone, or grind the surface to make it look like leather.
Is Polymer Clay Too Heavy For Earrings?
You may recall your childhood when you kneaded plasticine in your hands, made shapes, and blended colors to determine which shade was created? It is similar to polymer clay, which is soft enough and a great choice if you want to shape it.
Clay jewelry must be baked at high temperatures, and the jewelry may crumble after baking. Its fundamental disadvantage is that it is too heavy for wear on the ear for earrings or for wearing as a necklace around your neck.
Another advantage of polymer clay is that it is baked at a lower temperature, so you will not get burned. By baking it, it will become permanently shaped and maintain its shape for a lifetime. Grateful for shaping, and being light on the ears, polymer clay is an ideal choice for making earrings.
What Is The Best Clay For Jewelry?
There are many uses for clay, from making dishes, cups, ashtrays for Mother's Day during school, to jewelry in the form of necklaces, pendants, badges, and earrings. 
But not all clays are the same, and the type of clay you use depends on the jewelry you want to make. Before you decide to purchase clay, you might like to consider some of the tips listed below.
The basic division of clay is according to the method of drying or baking:
The one that dries in the air and
The one that bakes.
If you intend to combine clay with other materials that are not able to tolerate high temperatures and cannot take firing, you should be aware of this.
Polymer clay is baked for about 30 minutes at temperatures from 110 to 130C or 230 – 266F.
Self-drying clay dries between 12 and 48 hours, after which you can process it by sanding, varnishing, or painting the motifs you have imagined.
Another division made by professionals working with polymer clay is:
This type of polymer clay has the advantage of being easy to shape and is therefore recommended for beginners and children. On the other hand, it can cling to the hands, and so it is recommended for those working on glass or non-stick surfaces.
If you want to help bring your jewelry to life, you can also create earrings with a sequin effect or a mass of transparent clay that adds drama to your earrings!
There is no shortage of possibilities; all you need is a little creativity and goodwill to turn your imagination into reality. Whether it is a fork, toothpick, cookie-cutter, or glass for cutting the desired shape, you can find something in your home that can be used to shape your polymer clay earrings into the desired shape.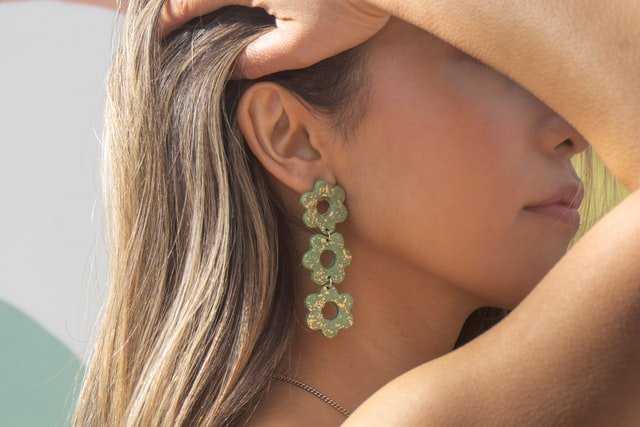 Do Clay Earrings Break Easily?
All things require some practice, including polymer clay. It may seem like there is no room for mistakes, but you still have to be careful when selecting the material you want to use for your earrings and follow the rules for making jewelry. Your earrings can break for several reasons.
Incorrect oven temperature or too short baking time
If the design of the earrings is not the same, that is, the clay is somewhere thinner, somewhere thicker
If the clay has changed temperature or humidity after baking. 
Testing your oven on a "trial sample" will allow you to determine the temperature and length of baking time. Also, you will be able to see how your clay is reacted to baking when performing the final finishing process of your jewelry design, which will prevent your earrings from breaking.
How Thick Should Clay Earrings Be?
The process of making clay earrings requires you to consider that they will be worn for a certain period of time, which is why it is important to think about the weight and thickness of the earrings on the head. Practice says that the ideal clay thickness for earrings is up to 2mm or between ¼ and ½". If you choose to work with thicker clay, keep in mind that the earrings will be a bit heavier, and the process of baking the clay may take longer.
Before Starting To Make Your Favorite Piece Of Jewelry…
In case you've made it to the end of this text, we'd like to congratulate you and wish you the best of luck making clay earrings. These tips will help you work more efficiently with polymer clay, as well as suggestions for combining materials and techniques that you can use to make jewelry.
Clay is the most natural material that human civilization uses, is harmless for use, and protects the environment from pollution.
You can design your earrings according to your personal tastes using a combination of colors and materials. We are sure you will enjoy it!