What are polymer clay slabs used for?
Have you tried using polymer clay slabs in jewelry making? If not, you must try it, to experience a fun jewelry crafting that will unleash your creativity.
A polymer clay slab is created by rolling out polymer clay that is commonly used for jewelry making. It is often designed using different colors of polymer clay to create different patterns for cutting. Its unique design will give the jewelry a sense of fashion.
Polymer clay slabs are great for jewelry making, as it makes pattern making simpler with one large piece of clay, as opposed to cutting your clay jewelry first and then adding patterns onto the pieces. Using slabs is a beautiful way to get creative with polymer clay, as the results can be stunning.
There are simple slab designs that you should master if you are a beginner to the polymer clay craft, such as cow prints, leopard prints, and easy patterns like multicolored grids. But, in slabs making the only limitation is your creativity and imagination, many talented polymers clay crafters have produced some gorgeous designs on Instagram and Pinterest for you to browse for inspiration.
How Do You Make Polymer Clay Slabs?
Making polymer clay slabs starts with planning for a design or what jewelry I will make with it. Then after planning you may now choose the color of your choice. After choosing the colors, roll out the base color of the clay at about ¼ inch thick for cutting. After that, you may add details to the base layer using the color clay that you choose beforehand.
Use glue or a rolling pin to secure the clay details to your slab if it is intended to lie flat. The last step is to cut out the design to your slab and bake it accordingly because no matter how amazing your slab looks, it will end up imperfect if you do not bake it accordingly.
After you have created your masterpiece slab, I recommend getting out the cotton tips and rubbing alcohol, and going over any dust and lint you may have missed before. It will be everywhere. By doing this step you are eliminating a lot of the after-bake job of having to sand off imperfections, and it is a lot easier to fix this way than sanding afterward.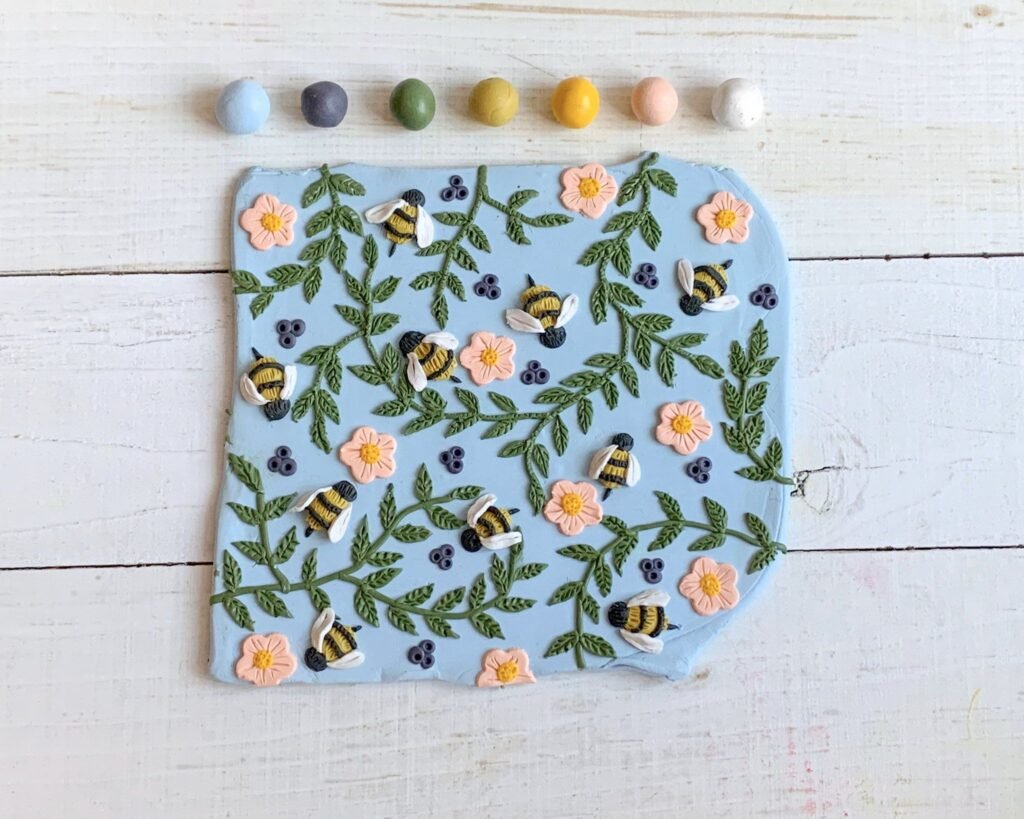 When it comes to cutting shapes out of a slab for earrings, the metal cutters are very efficient and easy to use, they do all leave a slight dimple on one side, but it is super easy to smooth out. There is also quite a large range of small businesses that custom design and 3D print shape cutters out there now and they are all great to use as well.
It is quite appealing to cut out the slab evenly after covering it with cling wrap evenly and then cutting it rather than leaving it flat, but all of that depends on your preference and the look you want to achieve. When using slab work to create tube necklaces or beads, it is best to work with a thinner slab and put a filler clay in the middle of the beads or tube, that way you're not losing any of the patterns you have worked hard on and then the pattern is less likely to be stretched and mashed the wrong way.

How Thick Should Polymer Clay Slabs Be?
A polymer clay slab should be ¼ inch or (6mm) thick as the general claying community consensus for the "standard" thickness. But when it comes to your preferred design the thickness of the clay slab can be varied.