Cold Porcelain Vs Polymer Clay? What are the differences?
A craftsman can use both Cold Porcelain and Polymer Clay for creating modeling materials like jewelry, dolls, and other artistic pottery. As the name suggests, Polymer Clay consists of polymer material as its components. On the contrary, Cold Porcelain Clay does not contain porcelain as one of its components. So, which is the better clay amongst these two?
Cold Porcelain is any day better than Polymer Clay. Polymer clay is toxic and you cannot make it at home. Whereas, Cold Porcelain is non-toxic in nature and is easily homemade. Another advantage is that you can fix cracks in the artistry after drying if it is cold porcelain clay, but it is not possible in case you use polymer clay.
In the next section, I will describe the characteristics of Cold Porcelain Clay for you. I will also try to answer queries related to the making of Cold Porcelain Clay at home and how to color it.
What Is Cold Porcelain Clay Used For?
Cold Porcelain Clay is a perfect substitute for polymer clay. It is inexpensive and super easy to make at home. It allows you to do finer detail while sculpting. The clay is air-dried and does not require any baking.
Cold Porcelain is a soft clay and can form very thin sections with a certain transparency. It is best suited to craft flower petals in floral miniatures. Since most of its constituents are biodegradable, it is often used to prevent the growth of fungi and bacteria.
Due to its pliable nature, a crafter uses it to make party favors, pottery, and more. It is easily molded into any crafter's artistic vision by simply air-drying. It does not require any special glazing in a kiln as compared to other types of porcelain crafts.
You will find numerous videos online to help you make this clay at home. My personal favorite is this youtube video, published by Neha on her youtube channel, Shubhanshi Arts and Crafts. She displays how to make attractive jewelry and cute dolls using cold porcelain clay.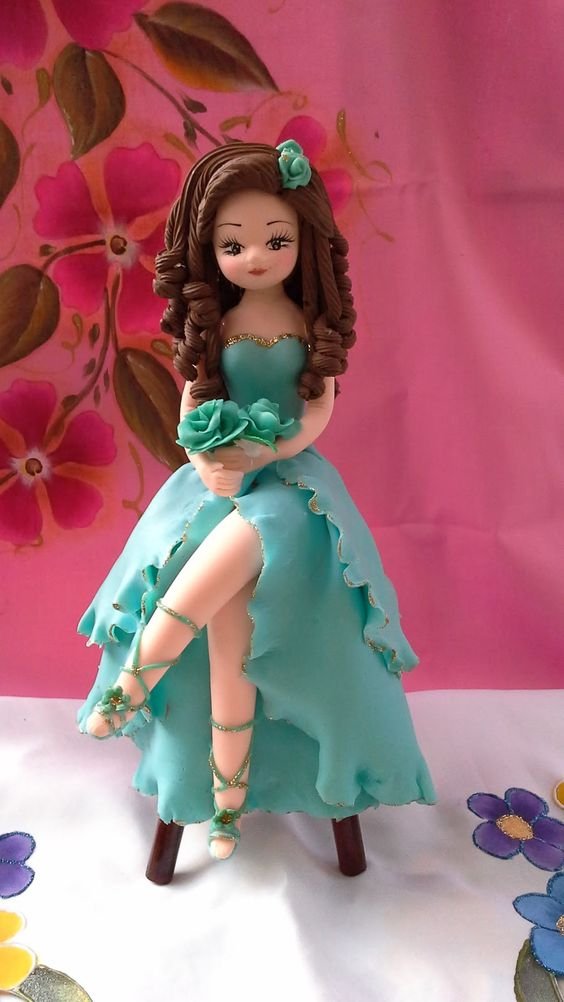 Can Cold Porcelain Be Baked?
Cold Porcelain clay requires 24 hours to air-dry and does not require baking. Although it is not advisable, baking can speed up the drying process. 
Baking is necessary for clays like Polymer clay. But it is not recommended in the case of Cold Porcelain Clay. Baking can lead to cracking in the molds. It is better to air dry and wait for the wonderful results of a luminous, text-like structure.
One of the major advantages of Cold Porcelain Clay is that it can be made at home. You can heat the ingredients in a saucepan or microwave it. Depending on your choice of heating device, you can follow this link and make the clay at minimum costs.
Does Cold Porcelain Break Easily?
Cold Porcelain supersedes other air-dried clays because of its durability and hardness. It shrinks between 15% and 20% usually but gets very hard after it dries. So, test your mixture to prevent excessive shrinkage and cracking.
The outer clay dries faster as compared to the inner clay, so you may run into cracking. Most of my acquaintances ask me what is the reasons for their clay to crack. I tell that my clay never cracks. So, to prevent your clay from cracking, you need to follow the rules mentioned below:
Don't forget to condition your clay – Conditioning means working the clay with your hands. It provides warmth to the clay and gets it ready for sculpting. It also prevents air bubbling, which can cause cracking.
Avoid speeding up the drying process – If you speed up drying, the outside dries faster than the inside clay which may cause cracking. So, avoid blow-drying your clay and let it dry naturally.
Do not use water to condition your clay – You can use your hands to condition the clay. Moisturizer is a better option to do the same. But avoid conditioning it with water. You can use water to join pieces though.
Additionally, adding clay to the cracking areas and letting it dry is a useful remedy. It is easy to fix cracks but you can follow the above rules to completely avoid cracking.
How to Color Cold Porcelain Clay?
You can tint homemade Cold Porcelain Clay with a variety of colorants or you can paint the finished product using Acrylic paints. After drying, cold porcelain is a semi-transparent material. So, it is necessary to add white acrylic or white paint to make it more opaque.
Crafters use a lot of techniques to color cold porcelain clay. Especially, when you are working with kids, you can use powdered colors to avoid messy situations. The various techniques can be summarised as below:
Permanent Markers: You can rub a large amount of marker into the clay to intensify the color before the clay has dried. It works best with young kids as you can use washable markers.
Powder Acrylic paints: You can increase or decrease the intensity of powdered color by adding more or less water. Since you are making a paste, you can create versatile textures for your finished clay pieces.
Acrylic paint: You can apply acrylic paint on your finished model with brushes or sponges. The dried mold holds the paint really well.
Fabric dyes: You can add the fabric dyes before, as well as after the clay has dried. Use brush and gloves to apply the dye and avoid any mess. They are available in powdered as well as liquid form.
Petal Dust: Petal dust is a powdered food coloring. You can use it to get a delicate color on your finished figure, using a brush and holding it in steam of a kettle.
Alcohol inks: These are great for tinting your clay for translucent colors. You can use them before or after the clay has dried. All you need to do is drop a few drops on your clay and mix it with your hands.