Paper Stencils for Pottery – Cool and Free to Download
Boost your crafting with Paper Stencils for Pottery to create unique home decor. It's cool to design your belongings the way you want.
Colors and designs have the power to influence our emotions. Stencil painting can be the best option for a fellow crafter. Sometimes adding colors and patterns can give life to your old-fashioned pottery. I love stencils. It's really fun to decorate pottery, ceramics, or clay.
 During the pandemic time, I learn a new skill of stenciling. I use my leisure stenciling all our pottery. Stenciling is a fun way to explore creativity with visualization.
How to use stencils on pottery:
Stenciling is great to turn your boring pottery into a decorative one. Stenciling pottery is easy to do at home.
For stencil painting to your pottery, you will need a couple of things like a paintbrush/sponge, stencil, and ceramic paint.
To make a stencil painting, first of all, you need to visualize the color combination and patterns you want in your pottery.
After that attach the paper stencil with painter's tape in the desired place. You can either use painter's tape or repositionable adhesive spray to stick the stencil firmly to the surface.

For very small and detailed work it's best to use repositionable adhesive sprays. Then carefully apply 2/3 coats of ceramic paints through a sponge.
It is good to apply a little amount of paint at a time. Now remove the paper stencil. The process of lifting a stencil to reveal a perfect design is almost magical and gives a satisfying feeling. Let the paint dry for a few minutes and it's finally done.
Can You Use Stencils on Clay?
Stenciling on clay makes the surface look lively and decorative. I apply the stencil on clay when the clay is medium hard. Then I sponge the clay surface so that it is wet enough to stick the stencil.
Press the stencil to the surface and roll it with an acrylic roller. It will also give some texture to the clay surface. Now it's ready for applying paint.
 Applying a little amount of color on each coat is best as excess paint can bleed and make the pattern messy.
Keep aside the clay and give a little bit of time to dry it. Patiently remove the stencil starting from a corner.
As a final touch, you can coat it with glossy color. Let it dry and enjoy the craft.
Using Cricut to make Vinyl Stencils on Ceramics
You'll be surprised to know how easy it is to make custom stencils with Cricut stencil vinyl. A circuit is a smart option for crafting and cutting design.
This electronic device makes stencil making super easier and faster. The Circut machine can cut all sorts of patterns and designs in different types of materials. Circut basically makes paper stencils, vinyl, card stock, and iron on transfer.
The circuit is very handy for making the intricate cutting of the stencil in the shortest possible time. Here step by step technique.
For making stencils with Circut. Vinyl is best. Vinyl is a synthetic polymer of plastic and is flexible to use.
I love using this stencil vinyl because it's thicker, more durable, and more flexible. The adhesive backing holds the stencil in place while you paint and prevents color bleed. 
Cricut Stencil Vinyl is repositionable and reusable, too. As long as your stencil design isn't too intricate, you should be able to reposition the stencil many times before it tears or loses its stickiness.
There are four main steps to making stencils with your Cricut.
Design the stencil in Cricut Design Space
Cut the stencil
Apply the stencil
Paint the stencil


Let me show you how to do each step.
First of all, you need to choose the design you would love to work on. You can either choose your design from the Cricut library or create your design in the Cricut design space. You can also upload a stencil design.
You can get ideas by, browsing Cricut Access to find out an enormous picture library. Use the keywords "stencil" or "pattern" in your search to discover quality stencil images.
Once the stencil design is complete, get ready to cut the vinyl. Put the stencil vinyl first onto a LightGrip or StandardGrip cutting mat for the Cricut. To make sure the stencil vinyl is level, smooth, and well-adhered to the mat, I like to roll it with a brayer tool.
Once the mat is loaded into the machine, hit the button. Return to Cricut Design Space after that and transmit the file to your cutting device. In the top right corner, click the green "Make it" button. Check that your design appears as intended on the next Prepare screen. Click Continue if so.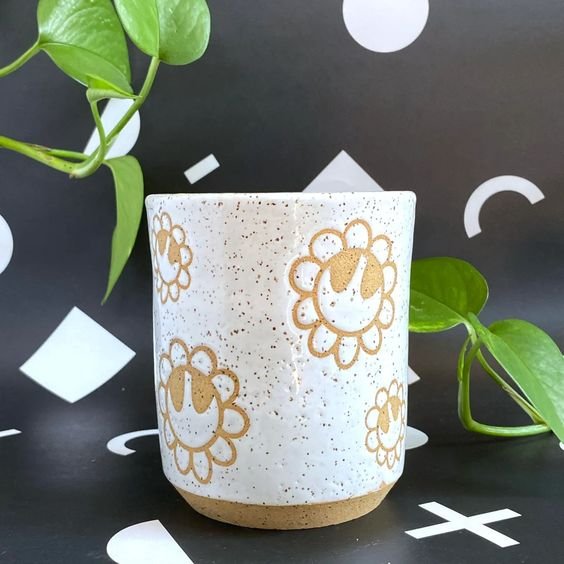 For the next step, make sure that your pottery surface is clean and dry. After that, carefully apply the stencil vinyl to the surface. Take your time positioning it exactly where you want the final image to appear.
Burnish the stencil vinyl onto the surface with a Cricut scraper tool or an old gift card. Begin burnishing in the center of the image and work your way outward.
Burnishing the edges will create a good seal and prevent your paint from bleeding under the edges. Because the stencil vinyl is transparent, you can see where it's making good contact, if there are any bubbles, and where you need to burnish more.
The same burnishing techniques apply if you're using transfer tape. After burnishing, carefully and at a 45-degree angle take off the transfer tape, leaving the stencil vinyl on the project surface.
Now it's time to paint your design as the stencil vinyl is ready. Apply a thin layer of paint over the vinyl stencil using a sponge brush or a stencil brush. The design will be transferred to your pottery surface by the paint as it passes through the stencil's cut-out portions.
You can add further, thin coats of paint as necessary for greater coverage. To avoid paint bleed, keep in mind that three thin applications are preferable to one thick coat.
After the paint has dried, carefully remove the vinyl stencil. The stencil vinyl can now be reused and repositioned to a different location.
 If the stencil strains or tears as you remove it for some reason, you can use your Cricut to cut a replacement stencil.
Check out the free stencil images on
https://kidadl.com/free-printable-stencils
https://online.rapidresizer.com/make-name-patterns.php